Event Details
Girls from all over the Washington, DC & VA areas with their parents/mentors will hear, learn and glean from Leading Ladies in STEM. This amazing experience is designed for girls and parents to become familiar with ...
Leading Ladies from diverse industries within the STEM disciplines will share-first hand ...
1. What's available in STEM courses and careers?
2. What can I be doing now to prepare for a more diverse high school, college, certification or career path?
3. What resources are available for me to explore to improve or enhance my STEM experiences in course work?
4. What are my options as a STEM professional?
5. What camps and scholarships can I apply for?
6. When and where can I start shadowing STEM professionals?
And so much more.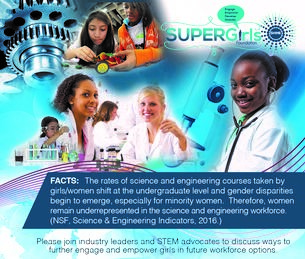 Click here to view 2017 Highlights!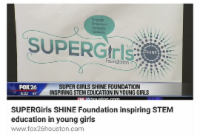 Register is FREE but you must be registered by February 2, 2018 to attend.
Great for diverse schools, organizations and faith-based mentoring programs.
Click here to view the Media recap of our 2017 experience.
SPONSORSHIP Packages are available! Please click here to receive a packet.
Check website for Speaker Updates!
To learn more about SUPERGirls SHINE Foundation, peruse our website at www.SUPERGirlsSHINE.com