Event Details
Join us on January 22 at The Hatchery in Washington DC where 4 experts in Augmented and Virtual Reality will participate in a panel discussion to help sales and marketing leaders better understand how AR and VR will affect their organizations.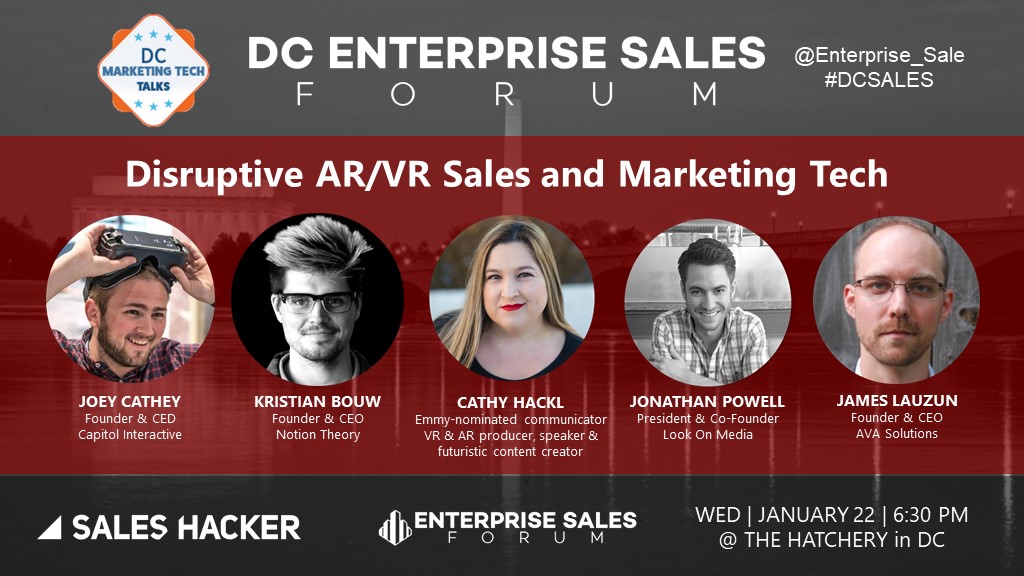 Come early to network and experience a variety of live demonstrations that will educate and prepare you to create a strategic plan for using AR/VR to effectively market products and services, grow revenue, and stay ahead of your competition!
*****
AGENDA
6:00 pm - 6:45 pm Demonstrations and Networking with Appetizers & Drinks
7:00 pm - 7:45 pm Talk
7:45 pm - 8:00 pm Audience Q & A
8:00 pm - 8:15 pm Closing Remarks & Networking
8:15 pm - 9:00 pm Demonstrations
Please share our event and community with your colleagues and friends in sales. Please use our hashtag, #DCSales and tag us on Twitter at @Enterprise_Sale.
*****
GET TO KNOW OUR SPEAKERS!
Cathy Hackl is an Emmy-nominated communicator turned virtual reality & augmented reality, producer, speaker and futuristic content creator. Hackl is the host of the Augmented and Virtual Reality Marketing Podcast and #VRARChat. She served as chief communications & content officer for Future Lighthouse, one of the world's top VR studios focused on branded VR narrative. Hackl was also selected as a 2017 Oculus Launch Pad Fellow, a program designed to support promising VR content creators and help them bring their unique ideas to market. She currently helps innovative tech brands with highly-specialized communications services, while teaching communicators about the latest tools and tech through her Mixed Reality Marketing blog. She's also the founder of Latinos in VR/AR and one of the women leading the virtual revolution. Cathy was named by Onalytica as a leading augmented reality influencer and also by NBC News as one of the top Latina women working in virtual reality. She has spoken about VR and social media in more than 10 countries and has been featured in media outlets like Mic, CNN, Entrepreneur, VentureBeat, and Mashable. Before working in VR and social media, she worked as a journalist for CNN, Discovery Communications, and ABC News. She loves all things mixed reality, tech, AI, drones, and robots.
Joey is Founder and Chief Experience Designer at Capitol Interactive, where he has created VR, AR, and 360 experiences for Discovery Communications, US Postal Service, and AARP. As an organizer of the DCVR Meetup, Joey has worked to grow the local VR community into an inclusive collection of over 1,800 designers, developers, and filmmakers.
A serial entrepreneur, developer, and designer with over 7 years experience in product development, Kristian is the founder and CEO of a Baltimore-based AR/VR company. Kristian has aided in the delivery of over 30 products to market. He's worked alongside Fortune 100 companies, spoken at prestigious institutions including MIT & Harvard, and actively mentors growing businesses and communities about the applications of new emerging technologies.
Jonathan Powell is President and Co-founder of Look On Media, a cutting-edge company that creates compelling custom Virtual Reality (VR) experiences for education, healthcare, and enterprise organizations. Look On Media has successfully launched pilot programs with Johns Hopkins Hospital and the Kennedy Krieger Institute to provide unique healthcare solutions for children. LOM has partnered with VoiceVibes to create the most effective VR media training ever built with real-time audience feedback and in-depth voice analysis after every session.
With years of pharmaceutical science experience, James recently founded his own technology company, AVA Solutions, that is poised to disrupt laboratory science, manufacturing, validation & compliance. Meet AVA, your Augmented Virtual Assistant, and discover what is possible using augmented reality

*****
SPONSORS & THANK YOU
If you need an inspiring workspace community that empowers workforces to innovate, collaborate, and do what they love, give WeWork a try and contact [email protected] to learn more.
If you want more impactful sales messaging, try GoVideo by Vidyard.
If you need more accurate sales & marketing intelligence, give DiscoverOrg a ring.
If you want to coach up your sales team to rock their calls, check out Gong.
If you wish to broadcast your events live, the best video solution is Livestream.
If you want to automate inside sales workflows, you will want to give Fusemachines a try.
If you wish to be a sponsor, please reach out to Co-Founder Christopher Perras, Head of Sponsorships & Partnerships at [email protected] to learn more.
When: Mon Jan. 22
6:30 pm - 9:00 pm

Address: 575 7th St NW
Washington District of Columbia,US

Web: Visit Website