Event Details
Young Leaders Presents:
Conversation with Guest Speaker
Donahue Peebles III


This networking event for DCBIA Young Leaders includes light fare, beer and wine, and discussion featuring young industry leader Donahue Peebles III, Senior Associate of Development, Peebles Corporation.
Take advantage of this exclusive opportunity to hear Donahue provide insight on:
Peebles Corporation DC projects
Industry trends
Advancement tips for young leaders
We look forward to seeing you on February 21st at the Gensler Building! Meet us in the Washington Conference Room.
Must be under 35 years of age to attend.
Location Details:
Gensler Building
2020 K Street NW DC
Washington Conference Room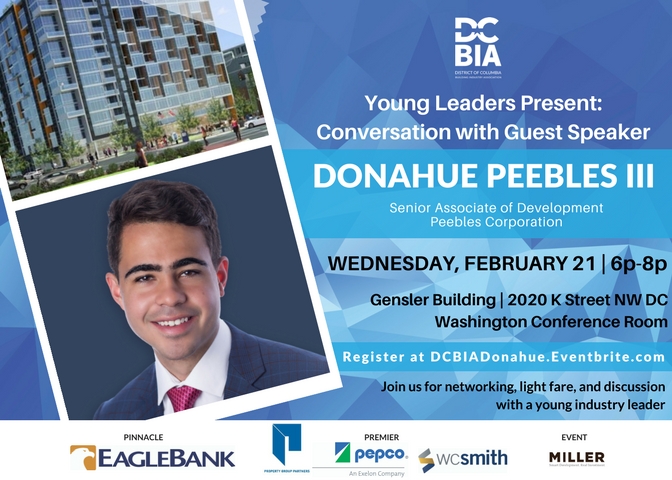 About Donahue Peebles III

Donahue Peebles III is the Senior Associate of Development at The Peebles Corporation, handling acquisitions and development. He is a 2016 Columbia University graduate, who began working with The Peebles Corporation full-time in 2012, while earning his degree in Economics. Donahue is currently leading the company's Washington, D.C. development efforts, including the day-to-day development of the SLS Hotel and Residences, in which he was an integral part of both the negotiating and pre-developmental teams. He is also overseeing the day-to-day pre-development activities of five projects in the D.C. area.
Donahue is an active part of The Peebles Corporations public image, as he often participates in local and national business and entrepreneurial summits, as well as serving on real estate panels and forums. He also serves both the Washington D.C. and New York City communities by engaging with multiple philanthropies that benefit and expose youth to various opportunities in entrepreneurship. Donahue is currently extremely engaged in working with the New York City Mission Society, Best Buddies, Harlem Mothers S.A.V.E., and various other organizations to improve the quality of life of impoverished and special-needs individuals on a global scale. In his spare time, along with traveling and reading contemporary American fiction, Donahue enjoys a lifelong passion for basketball and while attending Columbia college served as middle school varsity head coach for his high-school alma matter, Columbia Grammar & Preparatory School.
When: Wed Feb. 21
6:00 pm - 8:00 pm

Address: 2020 K Street NW
Washington DC,US 20001

Web: Visit Website