Event Details
Join Us on February 28th at Halcyon House from 6:30-7:30pm
Join Project 500 DC for monthly events featuring successful new majority local founders, innovators, educators and investors who share lessons learned on the road to building great companies.
We will be bringing two entrepreneurial leaders to share their struggles from both the entrepreneur's and investor's perspective, STEMBoard CoFounder & CEO Aisha Bowe (entrepreneur) and Score3 Angel Network Chairman Rashad L. Moore (investor). Join us for refreshments, networking with amazing founders, the gorgeous venue that is the Halcyon House, and of course the inspiration to continue the entrepreneurial grind.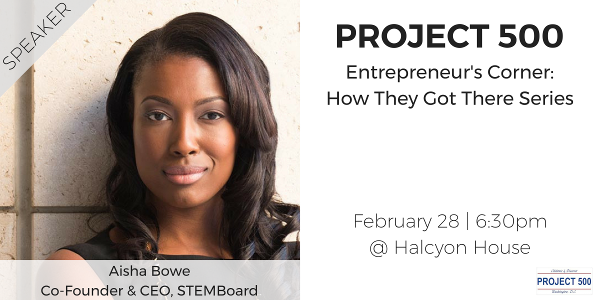 Aisha Bowe is the co-founder and CEO of STEMBoard, a tech company that specializes in smart systems. Aisha leads development, expansion and management of STEMBoard's multimillion-dollar Federal contracts and private sector clients. Prior to STEMBoard, Bowe was an Aerospace Engineer at the NASA Ames Research Center where she focused on miniaturized satellites and aircraft.
Bowe holds a B.S.E in aerospace engineering and an M. Eng in space systems engineering, both from the University of Michigan. She has received numerous awards for her dedication to technical excellence and the principles of diversity and equal opportunity including the 40 Under 40: Tech Diversity – Silicon Valley, United States Women's Chamber of Commerce Emerging Star Award and NASA's Engineering Honor Award. She is a member of the NASDAQ Young Executive Advisory Board, National Society of Black Engineers, American Institute of Aeronautics and Astronautics.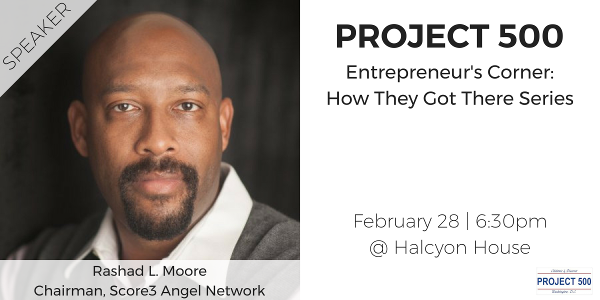 A Startup & Small Business Community Gathering
Join various startup and small business communities that make up the Greater Washington, D.C. Region for a lot of great learnings, valuable networking, and a chance to reconnect at the swanky Halcyon House. Joining in this initiative is the Techstars Community, DMV Startup Community, and DC Startup Week for a coming together to share in the successes and failures, learnings and debates, and expand your network with like-minded people who actually get you. You'll also get a chance to connect with Project 500 DC, which focuses on connecting you to the relevant resources along the entrepreneur's journey, from startup and small business to growth and scaling stages.
About Project 500 DC
Project 500™ DC is a business development program whose mission is to accelerate new majority entrepreneurs from high potential to high growth. Our goal is to recruit and retain at least 500 diverse businesses to receive skills training, capacity building, mentoring and networking to advance the economic success of their businesses and their communities.
About Halcyon House
Halcyon seeks and celebrates creativity in all forms and galvanizes creative individuals aspiring to promote social good. We bring together diverse groups of changemakers in art and social enterprise and provide a safe haven for their bold ideas to take flight.
Please note that all participants must register the Tuesday before the event to be included in the guest list.
When: Wed Feb. 28
6:30 pm - 7:30 pm

Address: 3400 Prospect St NW
Washington DC,US 20007

Web: Visit Website