Event Details
The Project 2049 Institute cordially invites you to the following conference:
Under the Radar: China's Coercive Air Power in the Taiwan Strait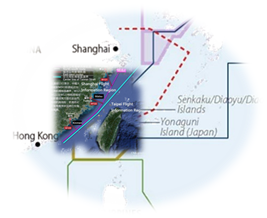 On January 4, 2018, the People's Republic of China (PRC) unilaterally initiated a significant modification to an aviation route along the western side of the centerline of the Taiwan Strait, and activated three east-to-west spurs to and from China's southeast coast. In violation of existing cross-Strait civil aviation agreements, the routes were implemented without prior consultation through established negotiating channels. The PRC has a long history of leveraging air power and airspace management more broadly, as instruments of coercive persuasion against Taiwan (Republic of China, ROC). As an early example, the People's Liberation Army Air Force (PLAAF) began flights over the Taiwan Strait in 1996, and extended operations to the centerline during heightened cross-Strait tensions in 1999. PRC national airspace management policy, presumably including the new commercial air routes, is guided by the State Air Traffic Control Commission (SATCC). Notably, the SATCC office, which handles day to day airspace management affairs, resides within the Central Military Commission (CMC) Joint Staff Department. Authorities in Beijing claim the new routes are intended to ease air traffic congestion. However, this unilateral move may illustrate a broader political and military agenda, intended to coerce Taiwan to the negotiating table on unfavorable terms, under the guise of civil aviation. More alarming, however, is the potential for the PRC to assert the Taiwan Strait as PRC territorial waters, declare exclusive sovereignty in the airspace above the Taiwan Strait, and mandate air traffic control authority over the Taipei Flight Information Region (FIR).
This conference will bring together a distinguished group of panelists to discuss the PRC's coercive airspace management, Taiwan's security, and implications for U.S. interests. The panelists will explore linkages between these new civil air routes, expanded People's Liberation Army (PLA) flight activity in the Western Pacific, and prospects for the PRC's establishment of an air defense identification zone (ADIZ) over the Taiwan Strait and beyond.
Schedule

2:00-3:30 PM
Panel: "Friendly Skies? Exposing China's Airspace Management"

Dan Blumenthal
Director of Asian Studies
American Enterprise Institute
Michael Chase
Senior Political Scientist
RAND Corportaiton

Mark Stokes
Executive Director
Project 2049 Institute
Ian Easton
Research Fellow
Project 2049 Institute
Moderator: Rachael Burton
Deputy Director
Project 2049 Institute
3:30-3:45 PM
Keynote Address

Congressman Ted Yoho (R-FL)
Chairman
United States House Foreign Affairs Subcommittee on Asia and the Pacific
3:45-4:00 PM
Q&A
When: Wed Feb. 14
2:00 pm - 4:00 pm

Address: 45 Independence Avenue SW
Washington DC DC,US 20515

Web: Visit Website