Event Details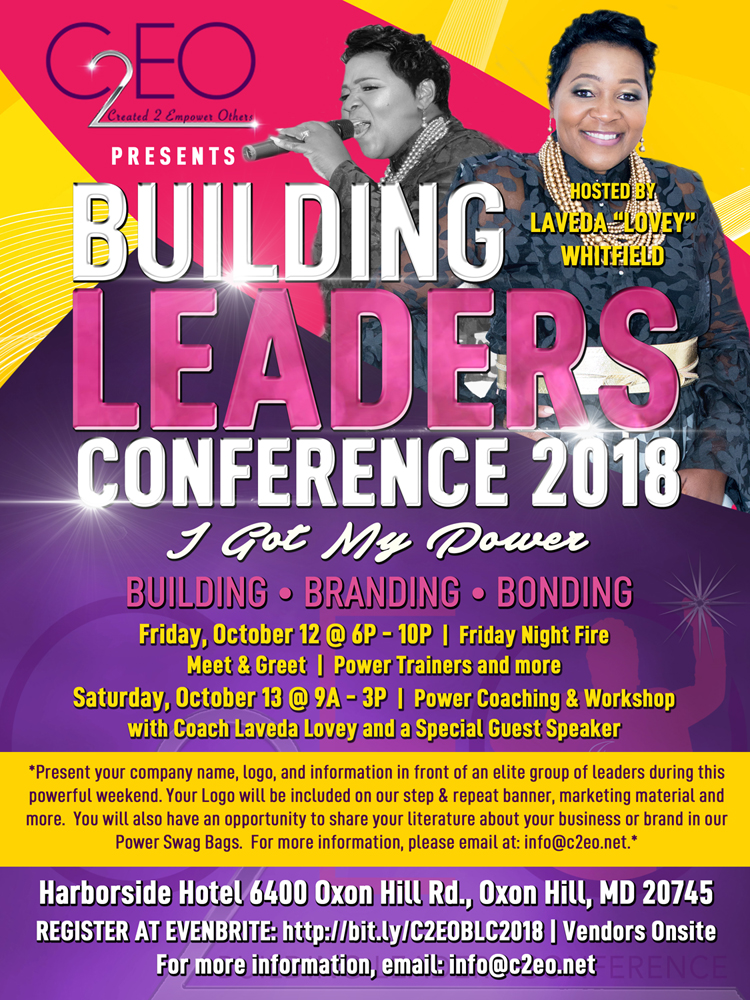 Our 2018 C2EO Building Leaders Conference will help you connect with your authentic self. It will assist with helping you cultivate the gifts that are already within you. Additionally we will help equip you with tools to create and enhance your brand.
Coach Laveda Lovey Whitfied is going to get you get "Coached Up", "Leveled Up" and "Synced Up" with your greatness. She is going to help you launch your vission and bring out your Power Voice through her special coaching session and training. Just coming out expecting more and you will not be disappointed.
Come dressed business casual with a hint of classy attire and ready to work. This conference will include a workshop atmosphere that will leave you wanting more.
Don't come alone bring a friend or two. No one is a stranger at any C2EO's events. You are among leaders, entrepreneurs, professionals, go-getters just like yourself. You will walk away with so many contacts and connections, so get ready to expand your network. Coach Laveda Lovey believes in sharing information and building lasting relations.
*Present your company name, logo and information in front of an elite group of leaders during this powerful weekend. Your Logo will be included on our step & repeat banner, marketing material and more. You will also have an opportunity to share your literature about your business or brand in our Power Swag bags. For more information inbox @ [email protected] *
FRIDAY NIGHT FIYAH & Meet and Greet 6pm-10pm
You will hear from some powerful speakers and traininers who are ready share how you grow your business and yoru brand. The platform interview folllowed by the line up will put in the mindset to win.
Saturday Confenece 9am - 3pm
Doors open for VIP's first and let conference begin. More detail will be sent once you register.
If you have any questions or comments feel free to contact us
[email protected] mail to: [email protected]
Vendors are welcome. Limited space is available to first come first serve.
Email us @ [email protected] mail to: [email protected] for pricing and more details.
You are Created 2 Empower Others but it first starts with you.
See you at the conference.
Coach Laveda Lovey Whitfield
www.c2eo.net
When: Fri Oct. 12 - 6:00 pm
to
Sat Oct. 13 9:00 am

Address: 6400 Oxon Hill Road
Oxon Hill MD,US 20745

Web: Visit Website