Event Details
Join the Urban Institute and the Forum for Youth Investment for a conversation with local leaders about how evidence-based strategies have worked in their communities, highlighting the successes and challenges they have encountered.
When researchers produce strong evidence, what are the best ways to increase the likelihood of practitioners using that evidence? And how can practitioners engage with researchers so that evidence is actionable, timely, and relevant? Local leaders are often concerned with how to improve their systems, support high-quality practices, and align new programs with existing systems. How can the engagement of practitioners and researchers ensure that evidence supports programs?
We invite you to learn from local leaders about what programmatic or operational infrastructure or research partnerships are supporting the use of evidence across policy areas related to children and youth.
Featured Speakers:
Ilene Berman, Senior Associate, Annie E. Casey Foundation
Matthew Billings, Deputy Director, Providence Children and Youth Cabinet
Lili Elkins, Chief Strategy Office, Roca Inc.
Thaddeus Ferber, Vice President, Forum for Youth Investment
Ruth Neild, Director, Philadelphia Education Research Consortium
Demetra Nightingale, Institute Fellow, Urban Institute
Vivian Tseng, Senior Vice President, William T. Grant Foundation
John Scianimanico, Policy Lab Manager, Results-Driven Government, Laura and John Arnold Foundation
Sarah Rosen Wartell, President, Urban Institute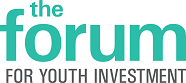 Registration and light breakfast will be available at 9:00 a.m., and the program will begin promptly at 9:30 a.m. Please contact [email protected] with questions regarding this event.
Support for this event is provided by the Laura and John Arnold Foundation, the Annie E. Casey Foundation, and the W. T. Grant Foundation. For more information on the Urban Institute's funding principles, go to www.urban.org/fundingprinciples.
When: Tue Jul. 24
9:30 am - 12:00 pm

Address: 2100 M Street NW
Washington DC,US 20037

Web: Visit Website