Event Details
HR transitioned from "transactional (HR 1.0)" to "strategic (HR 2.0)" some years ago.

Times have changed very much since then.

Today, HRBPs not only have to master the basic skills to perform well as "people people", but they also must understand the trends and the realities of the new world of work to create and deliver more value, keep their organizations competitive and help their people enjoy the best experience at work.

These are the times of HR 3.0 (beyond administrative and strategic). What does this mean for the HR Business Partner function?

→ What a are the skills that HRBPs need to master in this new world of work?
→ How is technology transforming organizations?
→ How are the demographic shifts and contingent workforce impacting the way people work?
→ How can HR and HRBPs remain relevant in this new world of work?

Join us in this conversation about the future of work, HR and the role of HR Business Partners in times of technological disruption, fast-paced innovation and exponential change.
About Us
Hacking HR is a forum for collaboration, networking and discussion about how HR and technology come together to create the workplace of the future.
We are inspired by the intersection of HR and technology. We are curious about how HR and tech influence when, where and how we work, who we work with and what skills the organizational leaders of tomorrow will need.
Our purpose is to build a community of like-minded HR and tech professionals and enthusiasts interested in human development and technology and in how to make them work for the benefit of everybody.
Agenda
5.30 p.m. to 6.00 p.m. Registration and Networking
6.00 p.m. to 7.15 p.m. Presentations
7.15 p.m. to 8.00 p.m. Q&A Panel
8.00 p.m. to 8.30 p.m. Closing and Networking
Additional information
www.hackinghr.io | [email protected]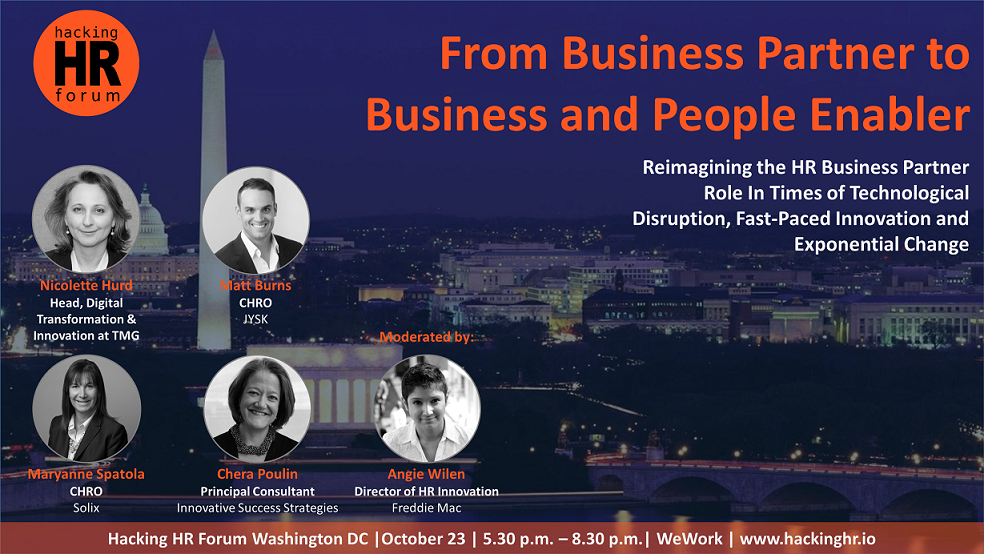 When: Tue Oct. 23
5:30 pm - 8:30 pm

Address: 1440 G Street Northwest
Washington DC,US 20005

Web: Visit Website